Kyla Wise, Audrey Wise Alvarez and Sean Aiken star in Indie feature FSM.
World Premiere at the Whistler Film Festival 2015; and was the official selection at the Boomtown Film & Music Festival, 2016 and The Vancouver International Women's FilmFestival, 2016.
FSM explores the world of underground raves and online dating through the eyes of Samantha, a female DJ grappling with the ups and downs of hookup culture in her search for meaningful connection.
With Vancouver as a backdrop for Samantha's experiences, the film will showcases iconic locations in the Kitsilano and East Vancouver neighborhoods.A filmmaker's love letter to Vancouver, the city plays a huge role in the emotional story of the characters. Local talent in the underground music scene provided original music and appeared in cameos in the film.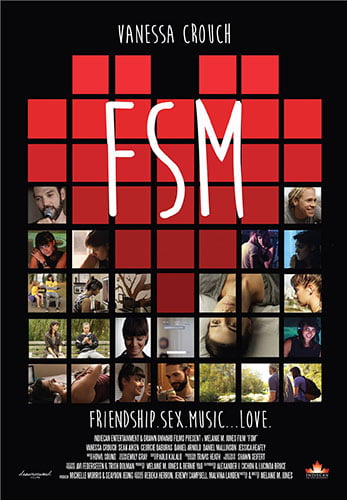 Writer, Director, Producer Melanie M. Jones
Producers Melanie Jones, Bernie Yao, Alex Cichon, Cindy Bruce,
Executive Producers Avi Federgreen, Trish Dolman
Director of Photography Shawn Seifert
Cast: Vanessa Crouch (Hard Rock Medical, Neighbors), Georgie Daburas (Hitman 101, Supernatural, Untold Stories of the ER), Sean Aiken (One Week Job Project), Kyla Wise (Intelligence, Stargate: Atlantis, Psych, Catch and Release), Daniel Mallinson (Almost Human, The Killing, Becoming Sophie), Jessica Heafey (Supernatural, A Night for Dying Tigers), Daniel Arnold (Lawrence & Holloman, Fringe, The Killing), Nneka Croal (Supernatural, Falling Skies, The 4400), Paolo Maiolo (Interspecies Dating, Bad Parenting, Julia Harnett (So You Think You Can Dance Canada, Psych), Patriz Fomitchev, Hannah Pedersen (Aveline's Window, Supernatural), Garrett Black (Supernatural, Once Upon A Time in Wonderland, Fringe, Behind the 8 Ball), Debra Sears (Untold Stories of the ER, The Birdwatcher), Heather Roberts (Manhood, Rest Stop)
Featuring Music by: Howl Sound, South of Bloor, Kasey Riot, Blackmill, KIDS, Jodi Pederson, Phil Woolf, Best Night Ever, Dominique Fricot, J.P. Maurice, and Chersea.
Kyla Wise and Sean Aiken: