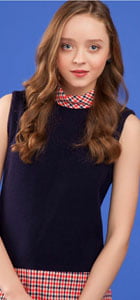 Madeleine Arthur guest starring on CW's Supernatural!!!
The award winning drama with the cult following was among the eight series given early renewals on Sunday. It will enter its 11th season this fall.
Young Canadian actress Madeleine Arthur ("Big Eyes") is going to be guest-starring in the Feb. 3 episode titled "About A Boy", Madeleine plays the teenaged version of a woman named Tina, who finds herself trapped in an very dangerous situation with a now-14 yr. old Dean Winchester (guest star Dylan Everett).
Serge Ladouceur directs this episode written by Adam Glass (#1011).  Original air date 2/3/2015.

Variety Magazine Article:
http://variety.com/2015/tv/news/supernatural-madeleine-arthur-about-a-boy-big-eyes-1201415293/
See mid-season trailer:
http://variety.com/2015/tv/news/supernatural-hunter-games-trailer-midseason-premiere-episode-1010-1201405620/